1997 Chevrolet S-10 Pickup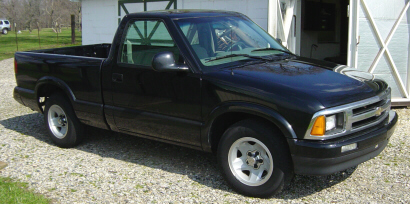 Every now and then I get a project that makes me wonder, "Why didn't I think of that?" This is one of those projects. For quite some time Kyle Moody of Indianapolis, Indiana has wanted to trick out an S-10 truck with Model A wire wheels and bias ply tires.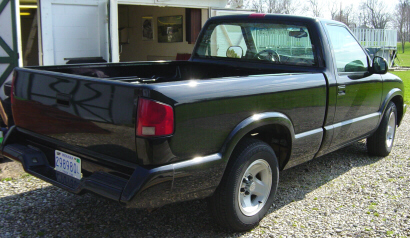 Kyle found this clean '97 S-10 and brought it to me to make his vision a reality.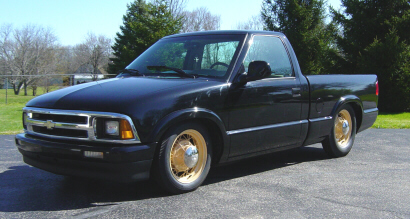 The first order was to get the truck as low as possible and I did that by adding drop spindles then stepping and narrowing the lower A-arms. With one coil removed from the springs, this combination gave us a 5-1/2" drop in the front.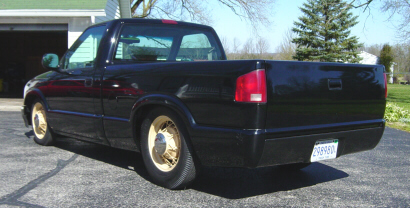 For the rear, I installed a set of 3" drop springs and a 3" lowering block. I also C-notched the frame for extra clearance. The clean appearance on the rear of the truck was brought about by replacing the stock bumper with a powder coated roll pan.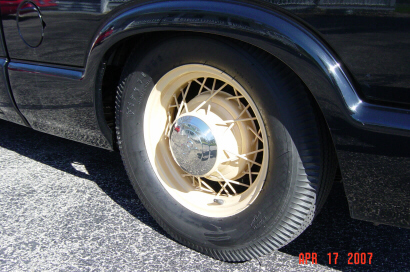 After taking the final measurements, I ordered custom wheel adapters to bolt the Model A wires to the S-10. Kyle ordered the bias ply tires from Coker and finished them off with NOS caps.