1951 Chevrolet Pickup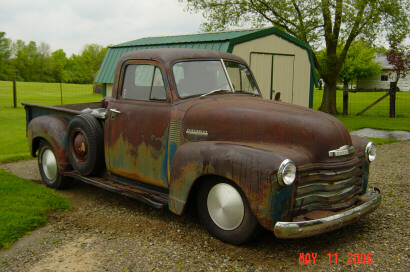 This perfectly patinaed Chevy truck belongs to Bill Winger of Cocoa Beach, Florida. Bill is another repeat customer. I did the air ride system on his '54 Chevy. Bill bought this dry southwest truck several years ago and had another garage in town install a Mustang II front end, late model GM rear end, small block Chevy and 700R4 trans. It was all nicely done, but Bill just wasn't satisfied.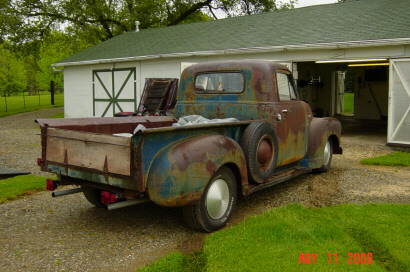 He brought the truck to me for a full transformation including air ride, ladder bars and monster notch.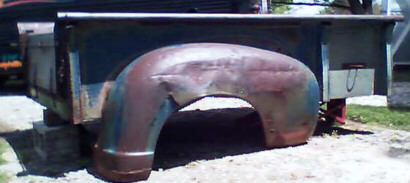 Bill and his good friend, Bart Frye got together and decided that the gap between the cab and the fenders was too long. They wanted to have the fenders and wheel base moved forward. What I came up with was to turn the bed back to front and switch the fenders side to side. I also switched the tailgate and the head panel. This also meant that I needed to move the rear end forward by 20".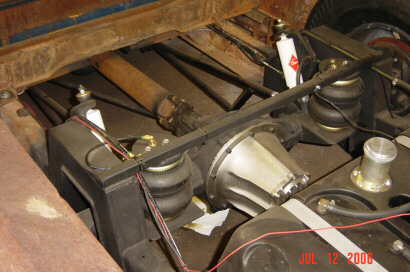 Here you can see the ladder bars, monster notch and air bags. By moving the rear end forward, it also allowed me to install a 17 gallon gas tank behind the rear end. Unfortunately, this will all be covered by aluminum diamond plate soon.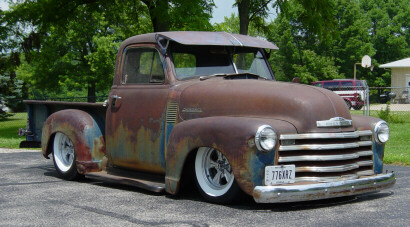 This doesn't look like the same truck, thanks to the Radir Wheels and Coker wide white cheater slicks. Also note the cab visor. We found the chrome grill and the tail gate at the Springfield, Ohio spring swap meet.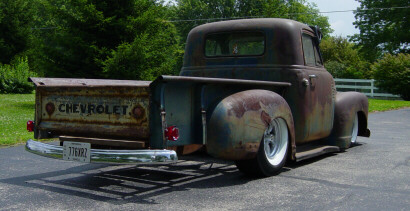 Also note the '48 Ford rear bumper and the funky maltese cross tail lights.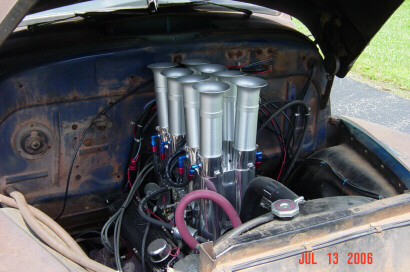 Oh yeah...one more surprise. The Don Garlits fuel injection setup. This truck is a blast to drive. Bart Frye now has the truck and is completing the interior and engine compartment detail.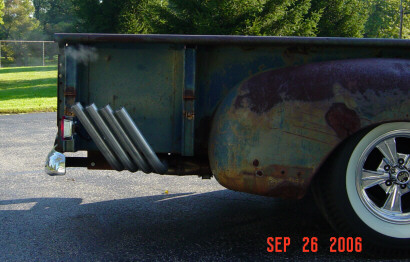 Bart came up with the idea for the Zoomie exhaust. I was skeptical at first, but now that it's finished, I really like it!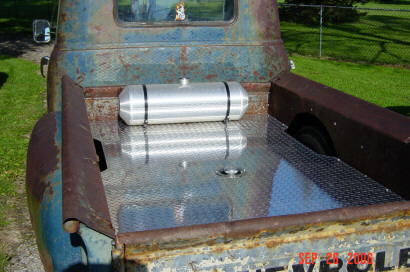 Boy, we really cleaned up this area by adding the aluminum diamond plate floor. It hides all my handywork, but it sure looks good. The Moon tank is the old gas tank. I still need to finish out the small wheel tubs.