1966 Chevrolet Corvair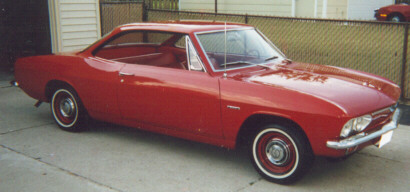 This was a rare find...a '66 Corvair with 6000 original miles, original paint and mint interior. Bart Frye liked what he saw and knew he had to have it...he had a vision.

Bart knew the look he was after, which included large diameter billet wheels and air ride. He brought it to me to make it happen. I stepped the front A-arms and installed a full air ride system. In the rear I needed to make room for a 10 inch wide Budnik Famoso wheel, so I moved the inner wheel wells into the frame. I then stepped and narrowed the rear control arms and narrowed the half shafts. I installed the air ride up/down controls in the factory push button radio, and the air ride gauge in a column-mounted tach housing.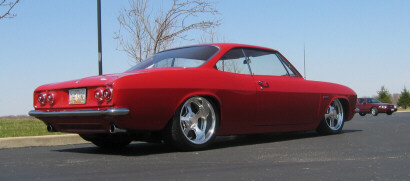 Bart installed a set of headers and the original pipes hung down fairly low, so I re-routed the tail pipes to hide them as much as possible. I cut into the rear valence for the resonator tips to exit. See how clean it looks from the rear! The front wheels are 18x7 and the rear wheels are 18x10 with a 285/40/18 tire.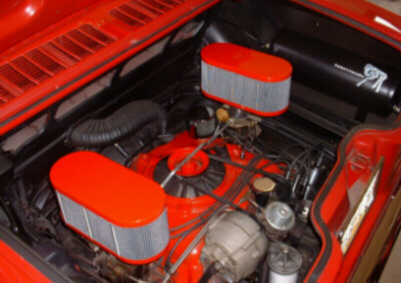 Bart did a fantastic job detailing the engine compartment

This little Corvair draws attention wherever it goes. It was featured in the December 2002 issue of Super Chevy Magazine, the December 2002 issue of Popular Hot Rodding, and the May 2005 issue of Super Rod Magazine.
As reported in Super Chevy Magazine "It is just so different and cool that it makes you want to go out and find a Corvair of your own."
Bart (aka Robbie) is also a talented musician and plays in the band My Three Sons. Elaine and I don't go out to bars very often, but when we do it's usually to see My Three Sons play live. We have also had them entertain at a couple of private parties we've had.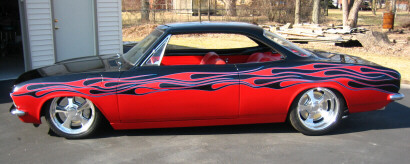 UPDATE!!! Bart has sold the Corvair to Brian Paul of Michigan. Just when we thought this project couldn't be taken any further, Brian proved us wrong. I saw this car when Brian debuted it with this new look at the Detroit Autorama Show and the paint is KILLER!!!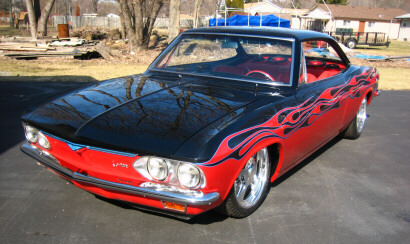 I don't know who did the paint, but hopefully Brian can give me the information and I'll post it here.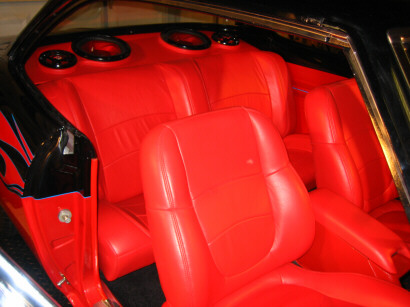 Brian took it another step with completely new interior. The plush red leather looks like it's as comfortable as a Lazy-Boy recliner. There plenty of "tunes" in there also.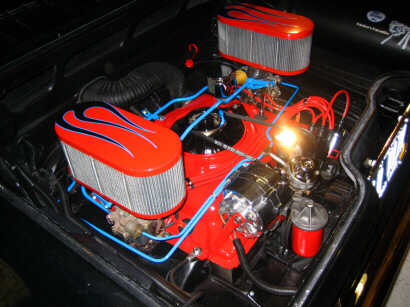 Very nice detail work on the motor to compliment the new paint.