1961 Falcon Station Wagon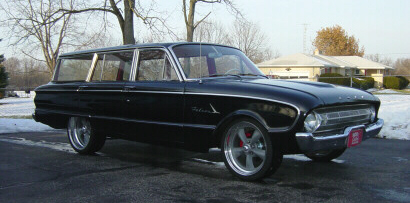 Neal Perkins of Lebanon, Ohio is the owner of this 1961 Falcon Wagon. Neal earned notoriety as the previous owner of the 1947 Ford known as Moonshine. Moonshine has a new owner in Texas now, so Neal bought this Falcon for the 2006 cruising season. The car already had full air ride installed along with 18 and 20 inch Americans. Because of tire clearance problems (front and rear) this was the ride height. That's why the car came to me.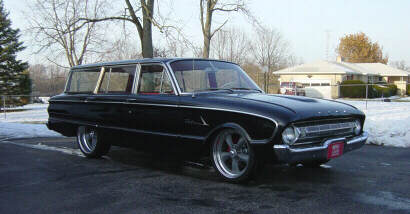 I stepped the A-arms 1-1/2 inches and narrowed them 1-1/2 inches to set the car lower and to pull the tires in. In the rear, I modified the outside of the inner wheel wells where the tires had rubbed before. This is the new ride height with clearance to spare.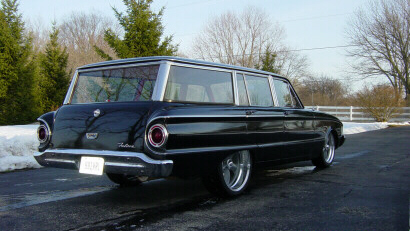 This shows the rear view of the new ride height. I also took care of some drive shaft problems and replaced the front air bags with heavier units.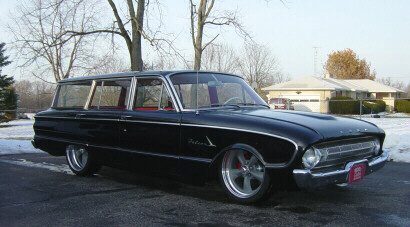 This is full "air out". The car came down another 1-1/2 inches in the front and another 1 inch in the rear. Prior to modifying the rear wheel wells, the car would not come all the way down at "air out" due to clearance.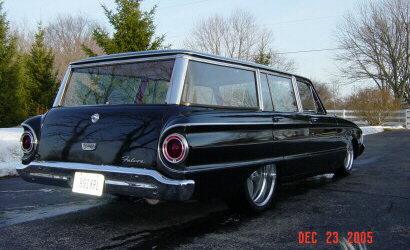 The car is now cruiseable at this stance. Yes "cruiseable" is a word!