1947 Ford Ratrod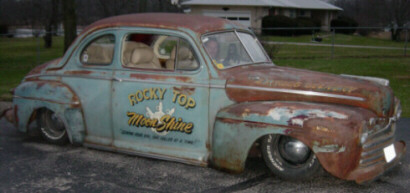 Neal Perkins of Lebanon, Ohio is the owner of this cool ratrod, originally from Kansas. This car came to me with Mustang II front end, a Malibu rear end and full air ride system already installed. Neal brought the car to me to be checked front to rear to make sure everything was done correctly and to take care of a vibration in the rear at certain speeds. The problem was an incorrect pinion angle, which I corrected. I also straightened out the steering column which was mounted at an awkward angle to the driver.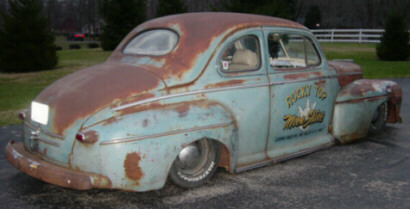 The new vintage style logo was applied by Josh Shaw of Cincinnati and appears to be 50+ years old. This car is powered by a late model small block and a turbo trans.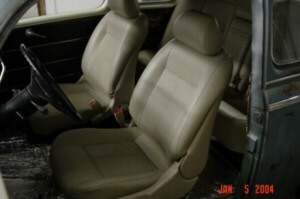 I built all the brackets and installed the leather interior from a late model Oldsmobile Alero. Amazingly, the rear seat looks like it was made for this car. The front buckets are power seats that are fully functional. Neal finished up by installing leopard print door panels. Tooo Cooool!!