Notice: We are in the process of updating the site, so check back and see what's new!

Home
My Name is Kevin Erisman, owner of Hacker's Paradise. I specialize in:
Air Ride Installations

Subframe Installations

Chassis Modifications
I have over 25 years experience in chassis modification.
My background is varied. I drag raced for 13 years and I've been involved with bicycles, motorcycles, hot rods, rat rods, street machines and muscle cars my entire life.
Professionally, I have been a machinist, a CNC programmer, and an Industrial Services Tech for a manufacturing company. For over 20 years I worked evenings and weekends in my shop to unwind. Almost ten years ago I left the "corporate world" behind to simplify my life and do what I enjoy.
Browse the website for my current projects, customers' rides and lots of other stuff. You will see everything from hi-tech cars to rat rods, and even some hi-tech rat rods.
Email me for a quote on your project or to comment on projects shown here.
Check out the updates to my bug.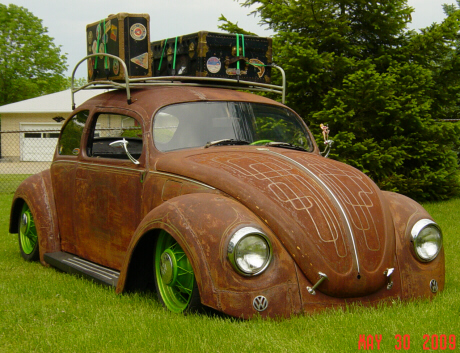 Click here for details.
Check the "Customer Rides" for more new stuff.
Last Updated
Visitors