1963 Mercury Meteor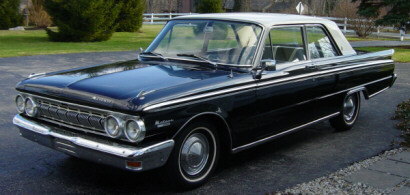 My latest (and slowest) project is this 1963 Meteor that I bought in Memphis, Tennessee in September of 2004. I have been so busy doing air ride jobs for customers that I never seem to have time to complete my own projects.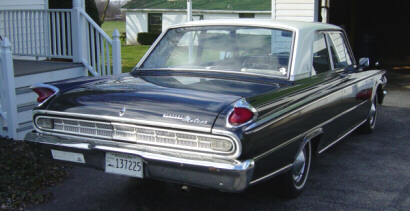 Elaine and I drove down to Memphis, picked up this car and drove it on over to Pigeon Forge for the Grand Run. It has a 260 V8, automatic trans and working factory air. It has original factory paint and interior.

The older couple we bought the car from were the second owners. When the gentleman died, his wife kept the for 8 more years before selling it to us.
| | |
| --- | --- |
| | The fiberglass Thunderbolt style hood before it was installed. |
| Here is the 15x8-1/2 American Track Star S wheel with a Kelly 315/70/15 tire. The tire measures 12-1/2" wide x 31" tall. The wheel has 3" backspacing so it's nice and deep. 15x4's will go on the front. | |
| | This pic shows the wheel wells cut out and the frame c-notched. At this point I was able to get a final measurement for the rear end now that the wheels are mounted. |
| In this shot you can see that the wheel tubs will extend up to the package tray. | |
| | Here's another shot of the tire tucked. |
| In this photo the air ride is done. I still need to narrow and step the A-arms. More updates will be posted soon. | |