1990 Harley-Davidson Softail #4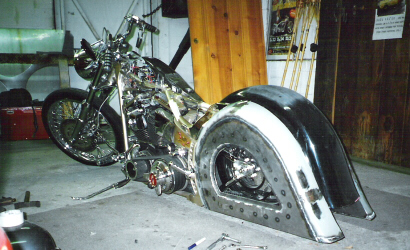 During the winter of 1996-97 we started on the final transformation of this bike. The "woody" theme was Elaine's idea. It all started with the front wheel, which Dave Marsh of Tipp City, Ohio arranged to have custom built for me. Then I headed to the shop and started fabbin' up. This photo shows the bike during the fabrication stage in my shop...it ain't pretty.
| | |
| --- | --- |
| | Here are Scott Sullivan and me in his garage, doing the finishing touches prior to painting. Scott was able to take my crude sheet metal fabrications and made the idea of a classic woody Harley a reality. |

Elaine and I debuted the bike at several local ride-in bike shows in the summer of 1997, as well as meeting up with friends on the weekends for some marathon rides. In February of 1998 we entered the bike in the Easyrider Bike Show in Columbus, Ohio and I suddenly found myself the center of attention. It started during the set-up of our display. We were surrounded by the show's promoters asking questions about the bike.
| | |
| --- | --- |
| On the first day of the show, I was approached by the people from the cable channel Speed Vision and found myself doing an on-camera interview that appeared later that year on the American Thunder TV show. Later in the day I was interviewed by the Easy Rider folks for their annual video. You know you're a big star when they give you a cooler to sit on during an interview. | |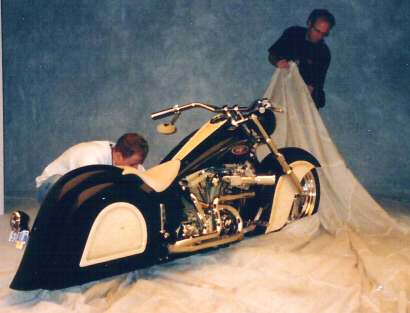 On day two of the show were were taken into a back room for a photo shoot. Here is the photographer, Michael Lichter and his assistant setting up the shoot. Little did I know that the bike would appear on the cover of VQ Magazine a few months later. To top it off, I was awarded "Best Specialty Bike" for the Easyrider Bike Show Tour of 1998. In 2001 the bike appeared in VQ Magazine's special collectors edition called "The Top 50 Best Bikes in VQ History by the World's Best Builders". It was also featured in the April 2002 edition of Hot Rod Bikes magazine.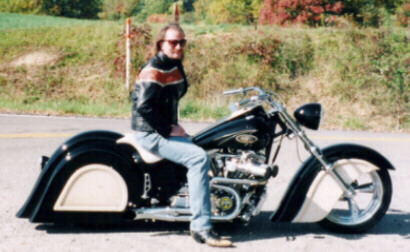 Back in the real world, bike shows and magazine coverage are great, but this bike was built to ride.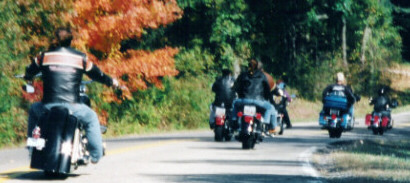 In August of 2003 I sold the bike. It went to Las Vegas...see ya old friend.