1979 Suburban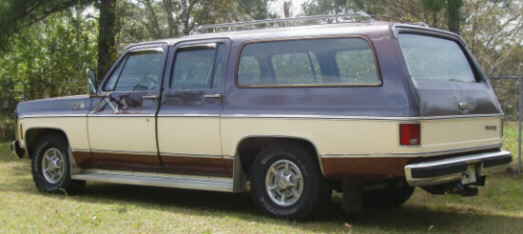 This is my shop truck as it looked when I bought it in Jacksonville, Florida in March 2004. It was a slow project that was completed a year later. It's a 1/2 ton with a 454 engine. Since it came from Florida, the body is excellent.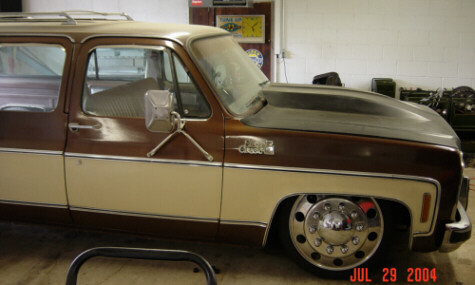 I converted it to a 1 ton dually using all 1 ton GM suspension with 3" drop spindles and full air ride. I bought six - 22.5 Alcoa Wheels from TEA (Truck Equipment & Accessories) in Texas. They cut the wheels down to 22" so they could be used with automotive type tires. TEA also supplied the 8 lug to 10 lug adapters. The front tires are 265/35/22. As you can see, I also installed a 4" fiberglass cowl hood.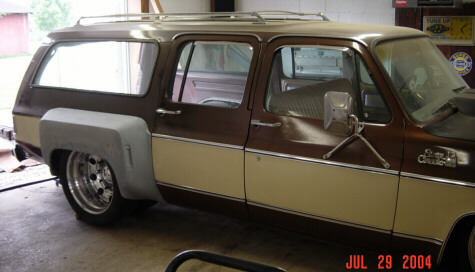 I narrowed the 1 ton rear end by 2" on each side and installed Mosier axles. I eliminated the leaf springs and converted to ladder bars and moved the inner wheels wells into the frame.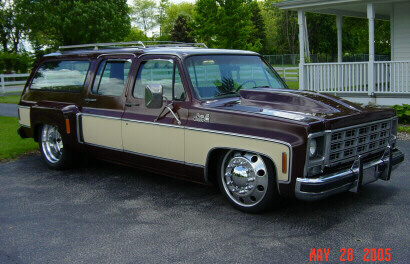 The dually fenders also came from TEA. The rear tire size is 285/45/22. I painted the rear fenders and hood to match the factory paint.
If you look close, you can see where I had to split the trim to allow the fuel door to operate. The trim was originally for a 1 ton dually, but I modified it to allow for the fuel door in this location.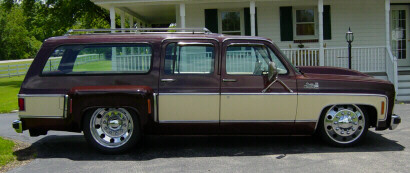 I looked at the wheels for so long that they don't look big to me anymore. I guess they are quite large!
| | |
| --- | --- |
| | I had to split the wheel wells and move them in 7". Here you see the interior with new carpet and looking quite stock. |