1948 Chevy Pick Up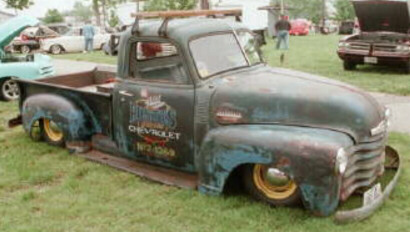 This truck was built in Kansas and brought to Ohio by Neal Perkins. Neal sold the truck to the current owners, Mike and Jennifer Bloomer of Indianapolis. When Mike brought the truck to me it already had a Mustang II front end, a late model Malibu rear end, full air ride and a stepped rear frame section. The interior was sparse and the glass was cracked. Mike had me go through the truck front to rear to make sure everything was done properly.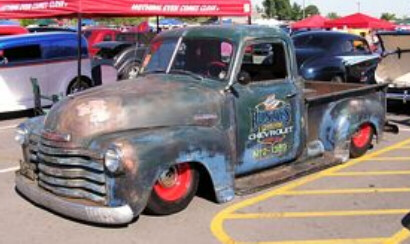 I changed the rear air ride to allow for a lower drive height, replaced the compressor with a larger unit, completely revamped the air gauge and control set up, installed a Locar Nostalgia floor shifter, all new factory style Stewart Warner gauges, a Painless Wiring System, new Pete Paulson smoothy steel wheels, electric wiper system and had the seat reupholstered in black leather.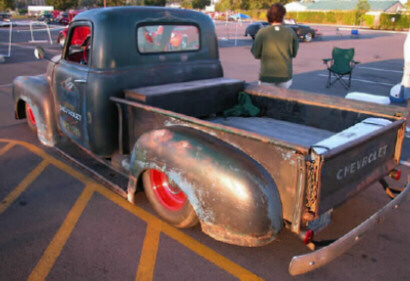 It is also equipped with a 400 small block and 700R4 automatic transmission. This truck lays the running boards on the pavement.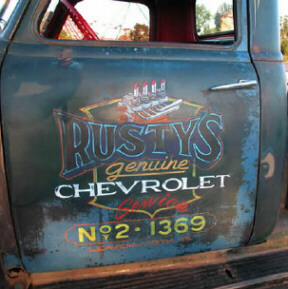 The new vintage style logo was done by Josh Shaw of Cincinnati. It looks like it's always been there.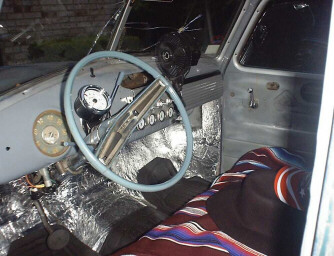 Here is a shot of the interior just as Mike started the detail work. As you can see it's pretty sparse, you can also see the cracked glass. Note the air ride gauges and switches just "hanging on the dash.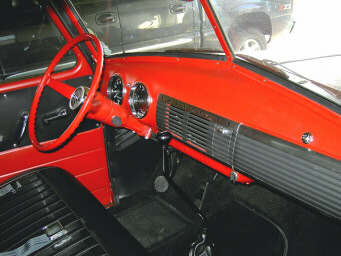 Mike and his good friend, Danny Wilson completely revamped the interior, which included smoothing out the rough dash, filling all the cracks and crevices and completely repainting it bright red to match the wheels. Mike also added new door panels, headliner, carpet and repop door handles and trim. I relocated the air ride guages and switches to the inside of the glove compartment to clean up the dash area.