1949 Chevrolet Suburban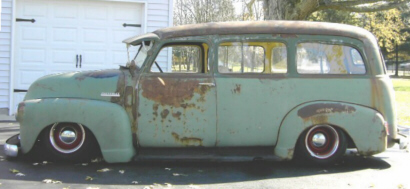 This rare 1949 Chevy Sub belongs to Mike and Jennifer Bloomer of Indianapolis...um...er...I mean St. Petersburg. Mike found this in Tennessee and bought it, even though it wasn't for sale.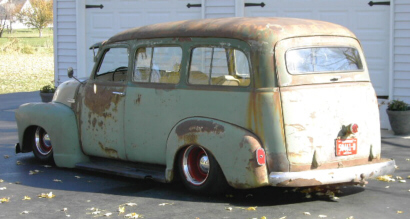 The previous owner had just finished a frame off chassis upgrade, which included a Mustang II front end, Nova rear and with adjustable 4-link and a full air ride system. He had also installed a 350/300HP smallblock with a 350 turbo trans. Fortunately, the body was left bone stock.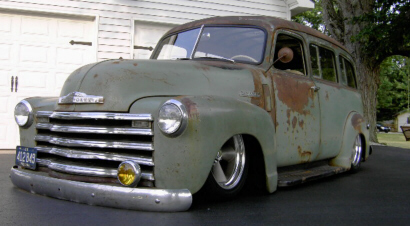 Mike brought the truck to me for a thorough inspection and to have some changes made. I replaced all four air bags (the front two had rubbed through). I also drastically lowered the ride height which, among other things, included a c-notch in the frame; installed a new gauge package and new fuel tank; and the most obvious...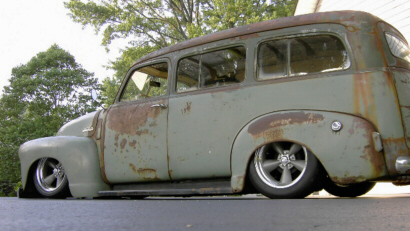 ...the 18" ET3 wheels. You can't see it, but I also installed new 2-1/2" dual exhaust with Flowmasters that are tucked up between the frame rails and running boards, and my personal favorite...the train horns.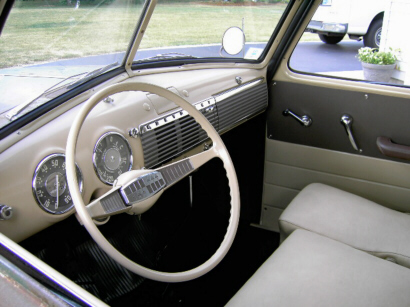 I also installed a Genie floor shifter and reconfigured the air ride controls. Once Mike had the truck back in his own garage, he and Danny Wilson completely painted and detailed the interior.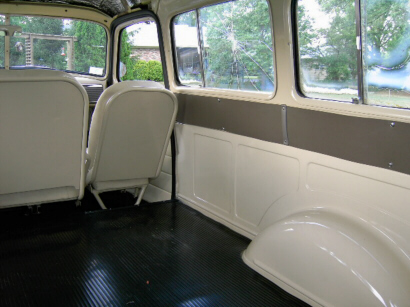 He custom fitted a rubber floor mat throughout, and used factory trim where he could.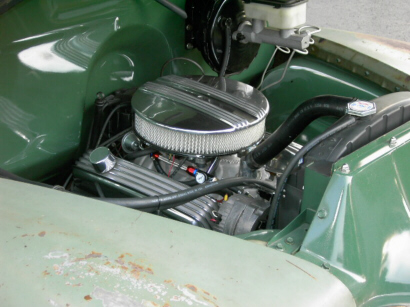 The cooling system needed attention so I lowered the radiator and added a custom built fan shroud, and a motor driven flex fan. I also changed the valve covers and air cleaner after adding a 570 CFM Holley carb.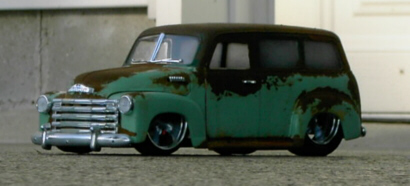 While I was working on the real sub, I found a 1/18th scale model and hacked it to match the real thing.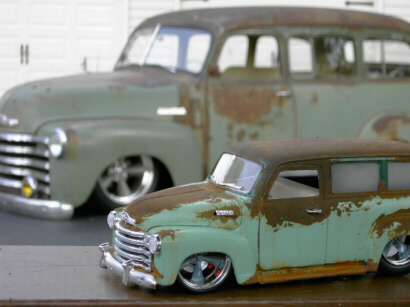 It's "Mini Me"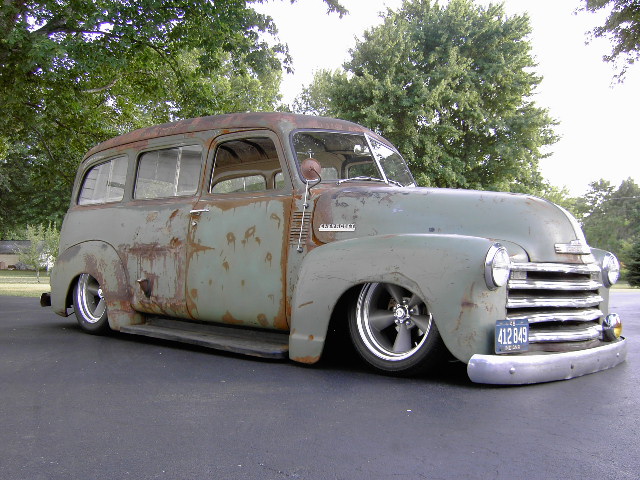 One more thing to note: The passenger side door is not original. Mike found this door in South Dakota to replace the dark green door that was on the Sub when he bought it. Color-wise it is near perfect and Mike matched up the rust pattern (our trade secret!)