1948 Ford
This car belongs to Mike and Jennifer Bloomer of Indianapolis, Indiana. It's a 1948 Ford with 1946 trim; powered by a late model, fuel injected Corvette motor and overdrive transmission; a 9 inch Ford rear end; with a Mustang II front end. The paint is a base coat/clear coat cherry red with no clear coat, to give it a gorgeous suede finish.
Sorry, I don't have a before picture of Mike's car. Originally it sat higher and had 17 inch Americans.

Mike brought the car to me to have it lowered and still be able to run large diameter wheels. The front was easy, I just cut a coil out of the springs and added a skid plate to protect the rack and pinion. In the rear, I moved the inner wheel wells into the frame for tire clearance, and added lowering blocks to the leaf springs. The wheels are Intro Pentias 18x7 front and 20x10 rear, with 265/50/20 tires.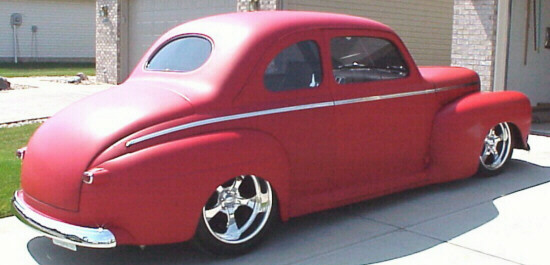 The Indy Boys like 'em low...that's why we get along so well!