1950 Chevy Convertible

This rare convertible belongs to Ed Perkins of Lebanon, Ohio. Ed is also known as "Neal's Dad" to us locals. He recently sold his ratrod Model A Coupe and wanted something more modern, so he bought this car.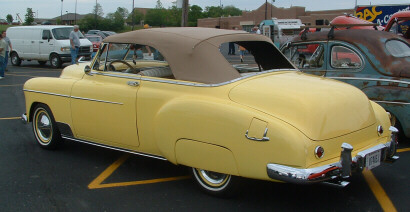 It has a Camaro sub-frame (you can tell by how far the front tires stick out), a nice detailed small block Chevy, automatic trans, and working electric top. It also has a white rolled and pleated interior. Ed wanted to make it look less like an old man's car and more like a hot rod, so he brought it to me.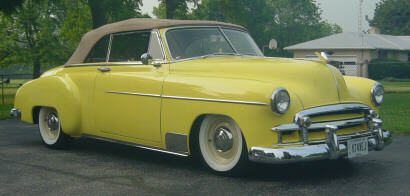 Ed ordered new Coker wide whites and Wheel Vintiques steel wheels. He painted the wheels a creamy yellow to match the car. In order to gain tire clearance up front, I narrowed the upper and lower A-arms by 1" on each side. At the same time I stepped the lower A-arm by 2". I also cut 1 coil out of the springs. After I got the car back on the ground, I realized that there wasn't adequate steering clearance up front. I inspected the front wheels and realized that we could gain enough clearance by changing the backspacing. I contacted my buddy, Scott Sullivan for the task. He was able to turn them around for me in just a couple of days. We gained 3/4" additional steering clearance.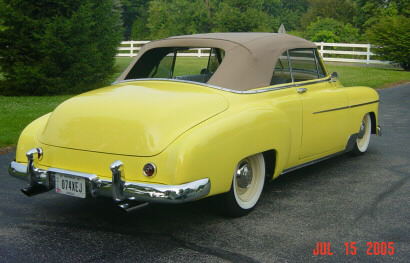 For the rear, I installed a 1-1/2" lowering block. The car drives and handles really nice.