1970 Chevrolet Camaro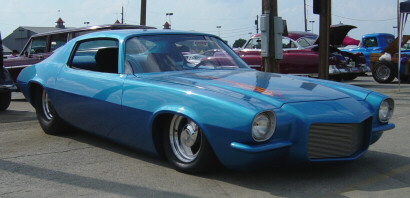 This gorgeous Camaro belongs to Gary Buckles of Miamisburg, Ohio. This car made its debut in 1993, and was so far ahead of its time in styling and features that it's still a heavy contender in today's street machine wars. It appeared on the cover of Car Craft magazine in 1994 has been featured in other magazines such as Hot Rod and Super Chevy.
Some of the things that set this car apart are: a completely molded and painted frame, a complete finished sheet metal interior including smooth headliner and floor (both the frame and interior are the same color as the car), electrically operated hood lift that lifts the hood up and forward, and a fully detailed 350 TPI motor.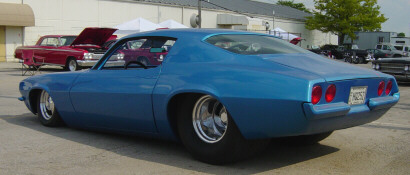 Gary drives the wheels off this car and after 12 years of faithful service, it needed some maintenance.
The electric hood setup was not working. After testing the system, I discovered that both motors needed to be replaced. While I was at it, I installed a new switch and 2 new relays.
During one of Gary's recent outings, he broke the panard bar brackets off of the rear end. Rumor has it that he was doing donuts after his club's annual car show last fall...you didn't hear that from me. I pulled out the rear end and welded the brackets back on. Then Gary took the rear end to be re-painted and installed a 456 rear gear and posi unit.
I can't take credit for anything on this car, but I am glad to be asked to do some general maintenance so I can put it on my site.
Click here to check out Gary's club website.