1957 Chevy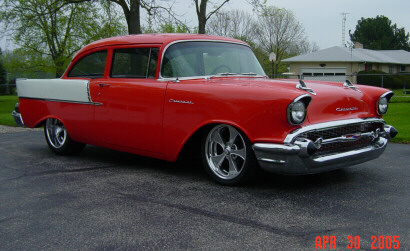 This beautiful 1957 Chevy 210 sedan belongs to Ray Roberts of Louisville, Kentucky. It has 20x11 Boyd Magneto wheels on the rear and 18x7's up front. The rear springs were moved inside the frame to allow for the 275/45 rear rubber. Ray stepped the lower A-arms up front and added 3 inch lowering blocks in the rear to get this stance.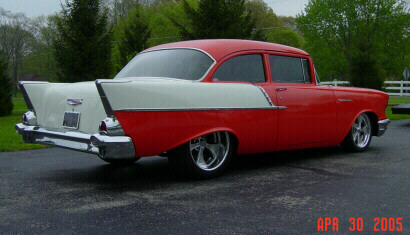 Fortunately for me, Ray wanted to go lower. He brought it to me for full air ride treatment.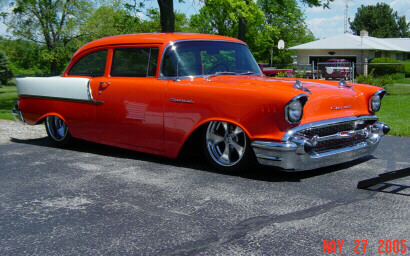 Now this is how it's supposed to look! In addition to the air ride, I also added a 1 inch sway bar up front. I mounted the air ride gauge inside the glove compartment and the push button controls are concealed above the factory heater controls.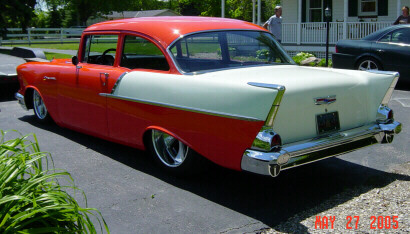 The colors on this car are 1969 Camaro Hugger Orange and cream.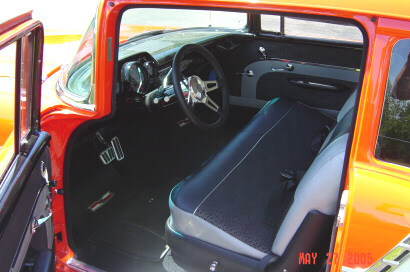 The interior has been very tastefully re-done using factory materials in black and silver.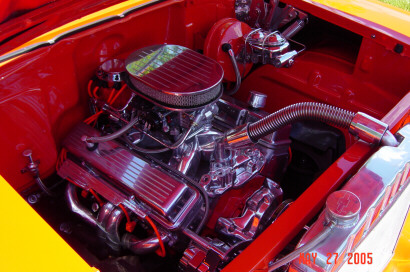 The Hugger Orange continues into the engine bay showing off the potent aluminum head small block. Note the ceramic-coated hood hinges. Also note, no sign of the air ride system.