1964 Chevy Impala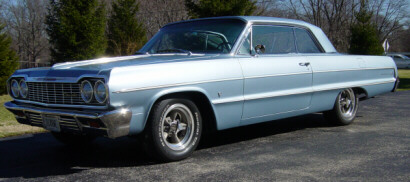 This Impala belongs to Mike Donisi of Carlisle, Ohio. When Mike found this car it had a full hydraulics system and it was pretty rough both inside and out. He removed the hydraulics and installed stock suspension, which required some fabrication of spring mounts, etc. This was no problem for him since he owns and operates Donisi's Custom Tool & Die shop.

He had the car re-painted, the interior re-upholstered, added new bumpers and trim, and finished off with 15 inch Americans. This car is beautiful!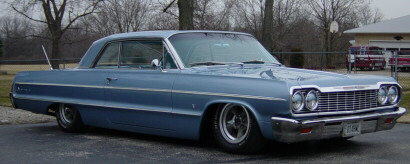 Mike then brought the car to me for a full air ride system installation. He chose to go with a deluxe system, which includes a 3/4 HP compressor, 3/8" airlines, two 3-gallon pancake air tanks, and two electric fast valves. We went one step further and added a remote control system for the air ride.

I finished up the job, as I always do, with a set of KYB gas shocks.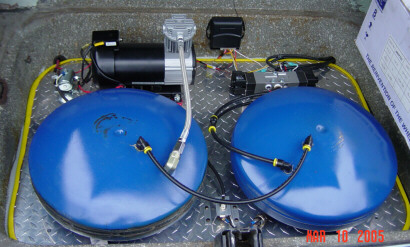 Mike chose to have me install the air ride components in the spare tire well of the trunk. He will eventually make a cover that will fit flush, giving him full use of the trunk area.