1959 Chevy El Camino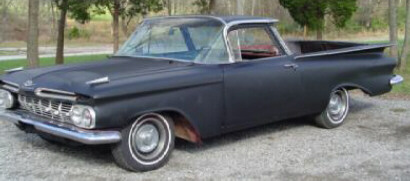 This car belongs to my good friend and former employer, David Dupps of Germantown. Dave found the car in Bowling Green, Kentucky and had me pick it up for him.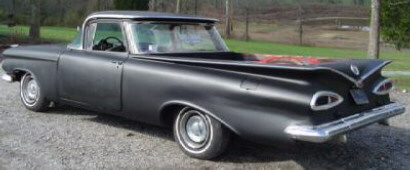 I brought it straight to my shop. The previous owner had installed a late model small block with an automatic trans. Although it is a very cool body style, it was in dire need of some detail work...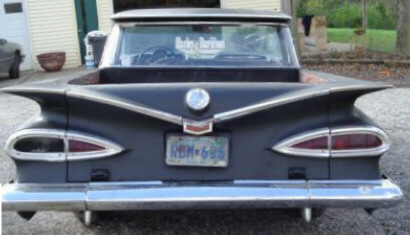 ...as is evident by the missing tail light and botched trim detail.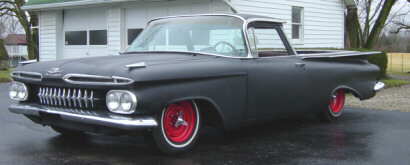 I started by lowering the car 2 inches all the way around. Then I removed all the trim and re-attached it using appropriate clips. I had the carburetor rebuilt, installed a new single-wire alternator, installed 4 - KYB gas shocks and rewired the car from the firewall forward. If you think you see an early Corvette grill in this car, you're right...another one of Dave's rat rod touches.

Dave found a replacement lens and I worked extensively to get all the brake lights and tail lights working.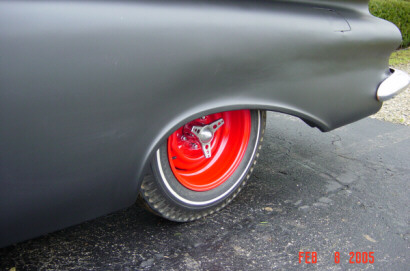 I ordered two new 15x8 reversed rear wheels from Pete Paulson. Dave had all four wheels sandblasted, then he painted them bright red and had two vintage cheater clicks mounted on the rear. Dave also found some very cool retro spinners which he adapted to fit the wheels.

Just an update on Dave's El Camino. He stopped by the shop recently and brought his 1959 Shasta trailer. The El Camino is finally near completion. It has all new interior with a thumpin' CD player to blast all those rockabilly tunes.
Look closely and you can see the skull in the rear window with brake light eyes. I will try to post some interior shots soon.